GoTakeAhike06
From WikiWorld
Many tell me to go take a hike, so I am....
Over Thanksgiving I hiked 3 days. Friday I revisited Craigmire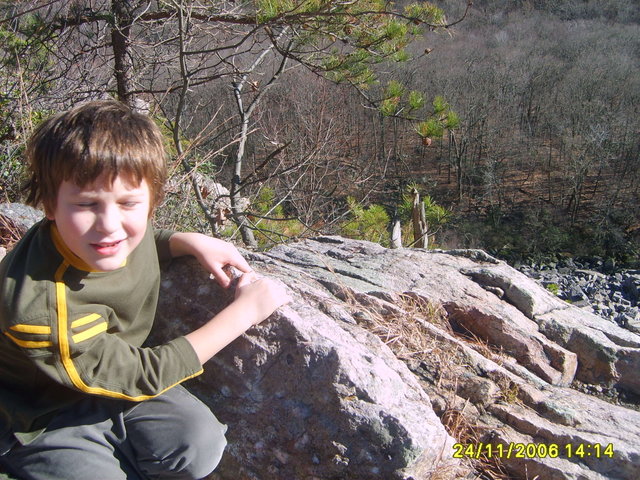 and then splitrock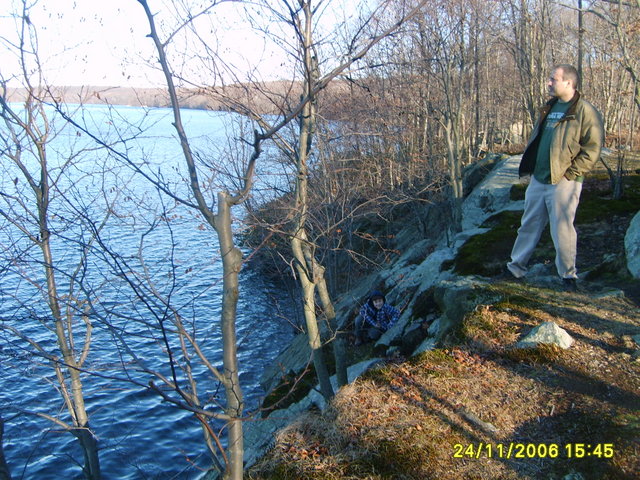 with bro John and nephew Travis.
Saturday I climbed Mt. Minsi, mostly in the dark,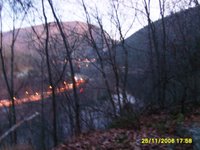 to catch the sunrise with bro bob.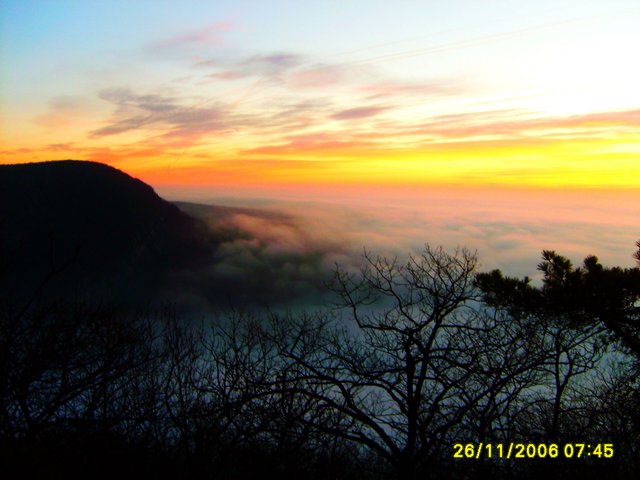 It turned into a great day,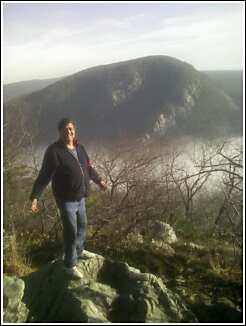 just after this we were sun bathing on the rocks.
---
This is GoTakeAhike06 number 2. I may be alone on this trek, and that would be cool. If others join and that will be even cooler. I will appreciate either fellowship or meditation as I rediscover the wonder of Nature.
I should get some awesome pics which I will share here upon return.
---
Saturday I went alone on the Appalachian trail in PA, south from Wind Gap to Smith Gap Sep 9th to Sep 10th, camping at Smith Shelter, a part i missed last week due to rain. Check it out at http://www.trails.com/tcatalog_trail.asp?trailid=HGN129-023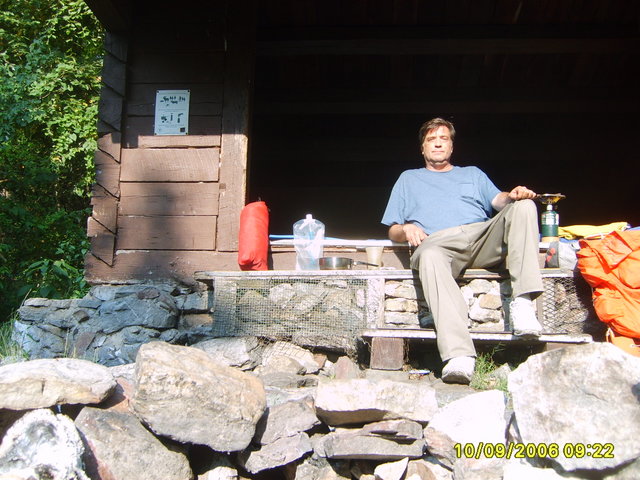 I got a late state and barely made the 5 miles to the shelter by nightfall. In the morning I had to make Smith Gap by noon and hiked the 3.5 miles in two hours without stopping. I got good exercise, and hurt plenty, but prefer a more relaxed pace...
http://www.whitescarver.com/gallery/WindGapToSmithGapPA
---
Sunfish Pond campout - Kittatinny Point Area - New Jersey POSTPONED Red Dot Trail - 1.5 miles. Begins at NJ I-80 rest stop area. Climbs a rocky, steep grade to join Blue-Blazed Trail at top of Mt. Tammany. Good views. (those not interested in a steep rocky climb skip to Appalachian trail below).
Blue-Blazed Trail -2.5 miles. Branches off the Appalachian Trail. Climbs to summit of Mt. Tammany where it joins the Red Dot Trail. We will pick it up at the top and descend to the creek where we can jump off the rocks into the icy water.
Dunnfield Hollow Trail - 2.5 miles to Appalachian Trail. Former logging road departs Blue-Blazed Trail and follows Dunnfield Creek. A secondary trail leaves the creek and climbs the Kittatinny Ridge to the Appalachian Trail.
Appalachian Trail - 3.7 miles. White blazed trail begins in NJ at Dunnfield parking area. Gradually climbs the Kittatinny Ridge 3.7 miles to Sunfish Pond. We can pick it up at about the 3 mile mark from the Dunnfield Hollow secondary trail or walk back to where it splits off from the creek.
Beulahland Trail - 1.5 miles to Appalachian Trail. Steep trail intersects Appalachian Trail; begins at Farview parking area. Optional route.
Karamac Road Trail - 1.5 miles. Flat trail follows old railroad bed along Delaware River. Begins at gate near traffic signal on Old Mine Road, and meets Old Mine Road again 1 mile north at Farview parking area. Optional route.
Douglas Trail - 2.5 miles. Steep route to the Appalachian Trail/Sunfish Pond. The two trailheads begin either opposite the entrance to Worthington State Forest Office, or 1 mile north opposite a parking area. The two trails unite and join the Appalachian Trail approximately .75 mile south of Sunfish Pond. This is the shortcut down the mountain on Sunday assuming we have left a car there.
---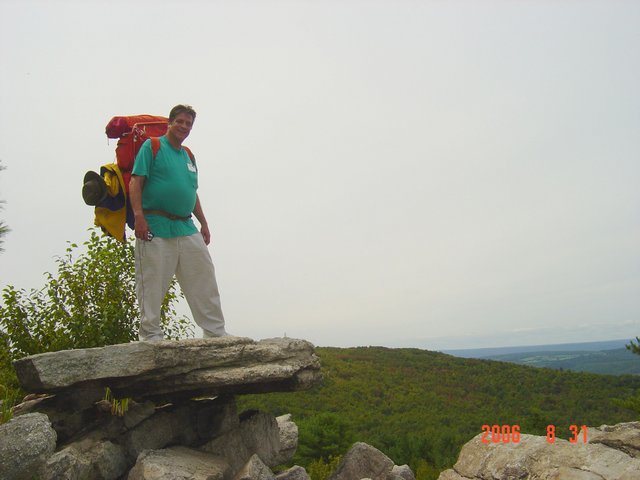 Many tell me to go take a hike, so I did....
GoTakeAhike06 on the Appalachian trail Thursday Aug 31st through Monday Sep 4th.
UPDATE: See the saga at http://www.whitescarver.com/gallery/GoTakeaHike06
It was a great trip!
---
Itinerary1: in PA, north to the Delaware Water Gap NJ boarder
One plan is to start around Lehigh Gap, or up the road toward Kunkletown at Little Gap Thursday morning and cover a leisurely 7 miles or so a day through Sunday and camp the summit of Mt. Minsi Sunday night. Monday morning it will be a short hike down to the river at the water gap where my car will be left.
Itinerary2: NY segment, Bear mountain to High Point.
The Hudson to Delaware river segment.
Itinerary3: the gap to high Point
The first choice is itineray 1 at this point.
Monday: river float or beach/island perhaps a BBQ brunch, and then with the CCCC crew off to the Mitchie's for the Labor Day BBQ if anyone is accepting their invitation.
You might consider joining any day or night when we can meet at a road crossing with trail parking (2b investigated...) Sunday afternoon on top of Minsey is one option for the PA trek along with Windgap PA Saturday morning.
Both are beautiful options. I've been from the gap to HighPoint and the Harriman NY sections numerous times. This PA segment is one of the best and new to me south of the Minsey summit where I have camped twice and loved it.
I hiked the gap to high point one February. The Appalachian ridge the trail follows has many magnificent views all year. In winter the view was continuous unblocked by leaves on the trees. Thankfully we had just enough snow to make it more beautiful.
I wonder if the trail will be lined with bushes of lousious blue berries this time of year. They come late up there on the mountain, but mayby not this late....
Approaching Mt. Minsi from NJ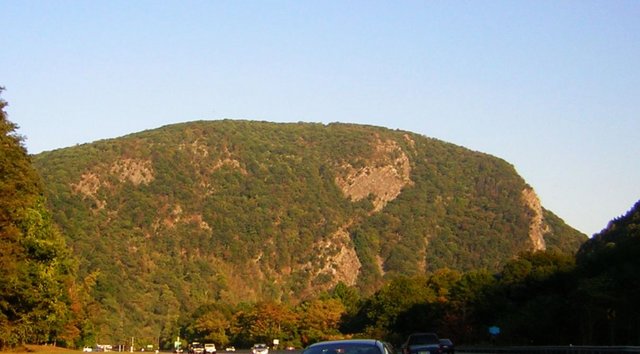 Here is Mt. Minsi last fall from the PA side.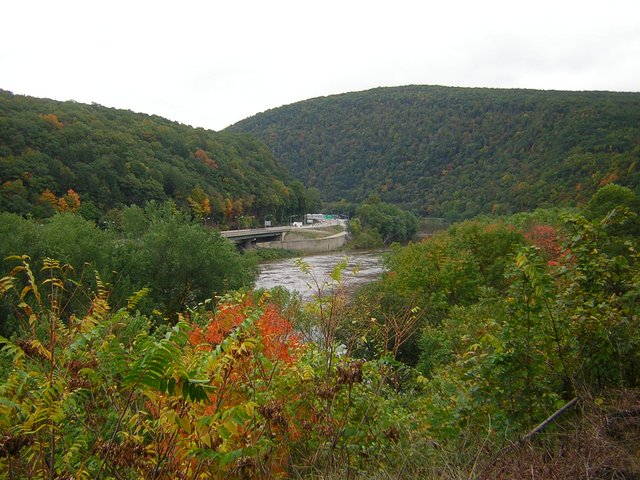 Even on a gloomy day the water gap is magnificent from the Portland foot bridge.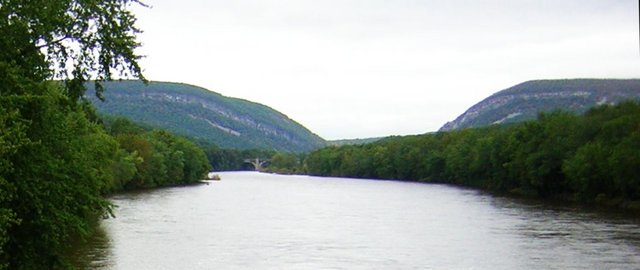 A longer view from the motor bridge

"The Trail north of the Susquehanna is characterized by long, flat, rocky ridges [with great views] broken by fairly strenuous climbs in and out of gaps." http://www.appalachiantrail.org/pennsylvania
I plan to stop to enjoy the view often when climbing out of gaps... it is awesome how it becomes more spectacular at each stop. (Note I am only going down the largest, not up, at the water gap.)
-- JimScarver
Start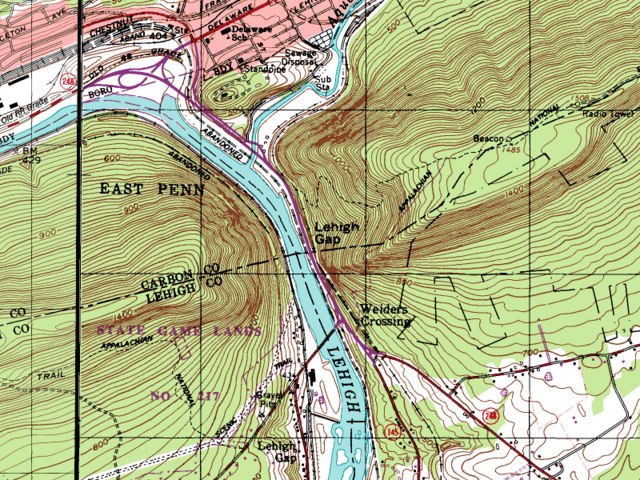 Day one and two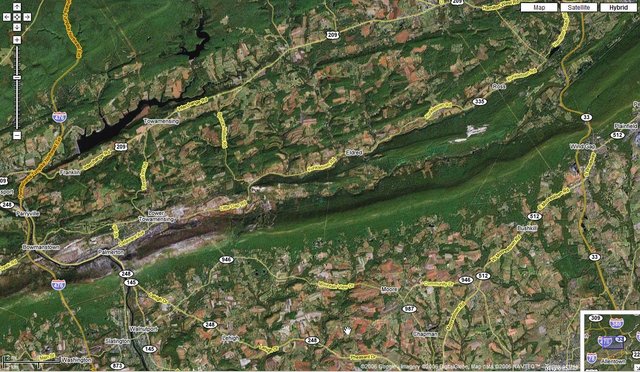 Finish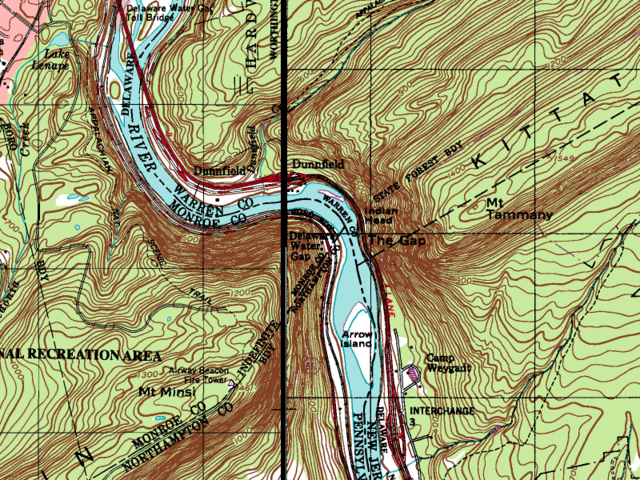 Day three and four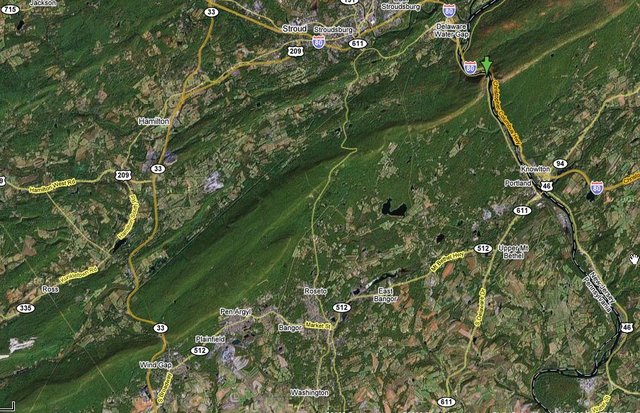 Pics from the trip and More Maps