EIES History
From WikiWorld
The Electronic Information Exchange System (EIES) has a long and rich history dating back to 1974 when Dr. Murray Turoff first came to NJIT from the President's Office of Emergency Preparedness (OEP). There he had developed the first computer conferencing system, EMISARY, for crises management and strategic planning. He brought to NJIT the dream of developing and evaluating Computer Mediated Communication technology to facilitate group decisions so that groups might act with their CollectiveIntelligence instead of the lowest common denominator. EIES was developed at NJIT's Computerized Conferencing and Communication Center (CCCC), where the current EIES work continues. With funding from the National Science Foundation, the original EIES utility was on-line in 1976. Dr. Starr Roxanne Hiltz, then a sociologist at Upsala College, led the controlled experimentation of on-line groups as the tools were developed to provide custom interfaces for each experiment and the various applications of the field trial groups. EIES innovated many interface concepts to promote usability and support end user tailoring. Since then thousands of individuals and hundreds of groups have utilized the original EIES and the new distributed Smalltalk based EIES (sometimes referred to as EIES2). Members included futurists such as Alvin and Heidi Toffler and Stewart Brand. It was the basis for many later systems including Parti and The Well. The old centralized version of EIES ran at capacity for over a decade and evolved to include hundreds of interfaces and thousands of commands. Miserable response time and a now out of date character interface demanded that a new distributed EIES be developed.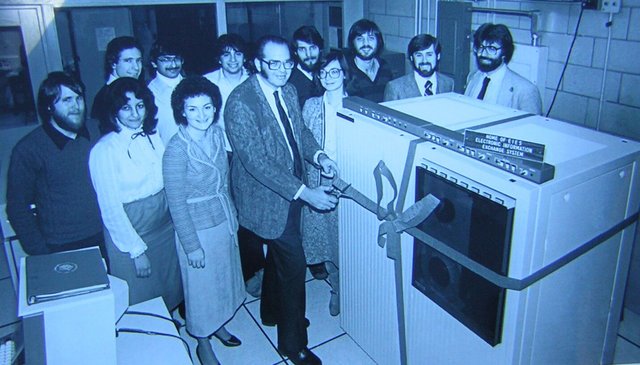 EIES has been used for tasks ranging from Project Management to Electronic Marketplaces to Group Decision Support. Participants in the early evaluation of the technology included 3M, Digital Equipment Corporation, Exxon, IBM, Xerox, NASA, U.S. Army, U.S. Department of Commerce, IEEE and the American Productivity Center. CCCC's work in Computer Mediated Conferencing has resulted in numerous books, reports, and hundreds of professional publications dedicated to advancing the state of the art. CCCC continues to run an EIES utility at NJIT to provide organizations with the most up to date conferencing tools available. The Center's main objective is to develop new software and technology to research group communication applications.
Roxanne Hiltz brought the concept of a classroom without walls to the CCCC. With funding from the Annenberg/CPB Project, the Virtual Classroom (VC) was developed. Continued funding is being provided by the Sloan Foundation. In 1984, the New Jersey Office of Telecommunications and Information Services (OTIS) requested and funded the development of an enhanced EIES. With this funding, and funding from IBM and the New Jersey Commission on Science and Technology, NJIT began building the second generation EIES. Much of the dream of the new EIES with multimedia communications in a graphical interface is just beginning to be realized now. The new interface, uses the technology of the World Wide Web (WWW).
EIES and the World Wide Web
WWW is an international collaboration dedicated to providing access to all information sources from all the computer networks in the world via the Internet. CCCC at NJIT joined forces with the WWW community in 1991. CCCC proposed extending the WWW concept to include general interface capabilities to integrate active information sources, in particular, the group communication environment. The SGML interface and forms concept designed at CCCC in 1984 to support the group communication environment has been embraced by the WWW community and CCCC was the first to offer group communication facilities integrated with the WWW. At the same time, CCCC developed, and made available free of charge, a screen mode browser for the WWW. At NJIT, CCCC has provided public access to WWW since 1992. CCCC demonstrated how simple scripts could interface on-line UNIX manuals, mail archives, calculators, phone books and other information sources to WWW and shared these with the WWW community. NJIT is proud of CCCC's role in helping to create an explosion of information on the World Wide Web.
EIES and the Mosaic Multimedia Interface
The National Center for Supercomputing Applications (NCSA), at the University of Illinois, known for quality implementation of tools for the InterNet also joined the World Wide Web effort, and embraced the CCCC philosophy of extending the general interface capabilities of WWW. NCSA had developed a hypermedia browser, Mosaic, which ran on PCs with Windows, MACs, and X-Windows platforms. Mosaic fulfilled the dream of a simple one button interface that provides access to vast information resources including graphics, video, and audio. All EIES communications and database facilities were compatible with WWW and Mosaic. In addition, the Mosaic interface enabled EIES users to directly access hundreds of other sources of information without leaving the EIES Mosaic client. Although the EIES services were still available in a text based, text only interface, some EIES users planned on moving to the new Mosaic multimedia interface. Users of IBM PCs and compatibles should should be running Windows 3.1 on a 386 at 33 MHZ or higher. MAC users should use a high end Mac running 7.0 or higher.
The EIES interface via Mosaic was only available at the time in a test mode. The full release version was available to EIES users by March 1995.
NJIT's nearly 20 years of research and development of group systems and leadership in integrating computer-mediated communications and the World Wide Web can provided an Information Garden where EIES users collaborated on a variety of issues while creating a hypermedia knowledge base to support total quality management in a variety of areas.
EIES Hardware Chronology
1988: Four Systems - three Hewlett Packard (HP) 835's and one HP 825. Operational System supporting EIES: Two HP 835's, each configured with a 4 mip processor, 24 mbyte Main Memory, and 1 gigabyte disk capacity. Total number of simultaneous EIES users without degradation is 10. Development System: One HP 835 configured with a 4 mip processor, 24 mbyte Main Memory and 1 gigabyte of disk capacity. An additional HP 825 configured with a 2 mip processor, 16 mbyte Main Memory and 500 megabytes of disk.
Operations and Development are on two physically separate systems. The Operational EIES is on the pair of HP 835's. The distributed nature of EIES design enables these two computers to act as one system with one computer serving as the database server and the other computer serving as the client server. EIES system response is in the 10 second time range with 10 or more users on line. Development is isolated on the remaining 835 and the 825.
July 1992: Sun Sparc Station 2 installed. Machine capacity: 25 mip, 32 mbyte Main Memory, 600 mbytes of disk. Both the client and database software of a not-for-profit organization are installed on this single system. The maximum number of users is increased and the system is dedicated to supporting this client. Total number of simultaneous users without degradation is 15. System response is in the 3 second time range. Other users remain on the HP computers.
July 1993: Sun Sparc Server 10 installed. Machine capacity: 220 mip, 128 mbyte Main Memory, 6 gigabyte disk capacity. This represents a major increase in computing power for EIES. (The new EIES is the fastest single system on campus by all measures). The operational EIES client system is migrated to the new system. Both the HP operational system and the Sun Sparc 2 are approaching capacity limits. In order to minimize the impact on EIES users, the database systems for all EIES users are moved to the new machine. Once the database is successfully running on the new machine, direct dial access is moved to the new system. System response is in the 1 second time frame. Normal usage climbs to over 20 simultaneous users without any noticeable degradation in system response. Development and EIES operations share the same machine while almost nightly quality checks and EIES system improvements are accomplished.
March 1994: Commercial clients moved to the Sun Sparc Server 10 All EIES operational users are moved to the larger and faster EIES system. System Response for all users drops to the 1 second time range.
April 1994: Development moved to Sun Sparc 2 System The Sun Sparc Server 10 is dedicated to EIES operational environment. The Development system is moved to the Sun Sparc 2 system. EIES is now in a fully developed and physically separated operational environment. Development no longer will impact operations and a formal sign-off process for new EIES releases is in full operation.
May 1994: Sun Sparc Server 10 Upgrade NJIT Computer Operations has tracking system usage and predicts system performance problems could occur in the June/July time frame. Based upon increased usage by NJIT clients, the Sun 10 System memory is doubled to maintain the 1 second response time. Machine capacity is: 220 mips, 280 mbyte Main Memory, 9 gigabyte disk capacity. Total number of simultaneous EIES users without system impact is increased to 80.
Production EIES
The EIES system has traditionally been an experimental environment; a platform for the ongoing development of computer mediated communications and decision support. In this environment, CCCC has maintained a position as one of the leaders in the field. However, the experimental environment is not suitable for reliable communications especially for users outside the academic community. To address this concern, CCCC began the transition of EIES into a true production environment in 1993 for all clients and commercial users in particular. CCCC has produced a separate and distinct production EIES. Several iterations of testing and quality assurance have been conducted to isolate EIES users from the eccentricities of the experimental environment. CCCC is also working to provide better documentation and assistance to all users. The first and foremost among these improvement goals is 100% availability and reliability.
To attain these goals CCCC has made major changes in EIES and the CCCC organization:
A distinct production control process has been implemented. Production is managed by the university's administrative computing personnel to assure sound, round the clock, system support.
A Computer Systems Manager has been assigned to all EIES systems to assure the reliability of the operating system of the computer on which EIES applications run.
EIES computer resources have been expanded to provide the speed and capacity necessary for the response required by corporate clients.
Forty-eight high speed (14,400 baud) modems are currently installed with 48 more (28,800 baud) to be added by Fall 1995, the NJIT InterNet connection provides access at T1 speed (1.5 megabyte per second) and ADP AutoNet service has been added providing local, direct dial capability in most major metropolitan areas to improve access to EIES.
The CCCC programming staff has been increased to include a Documentation Specialist with experience in maintenance, documentation, and support of public information services.
A two-tier customer support plan is being implemented. If the first level staff can't resolve a customer's problems, the problem is assigned immediately to second level support. The second level support is a team consisting of the Account Administrator, Documentation Specialist, Computer Systems Manager, Telecommunications Analyst and Senior EIES Software Developer.
An additional staff member was added and dedicated strictly to first level customer support and maintain user interface software.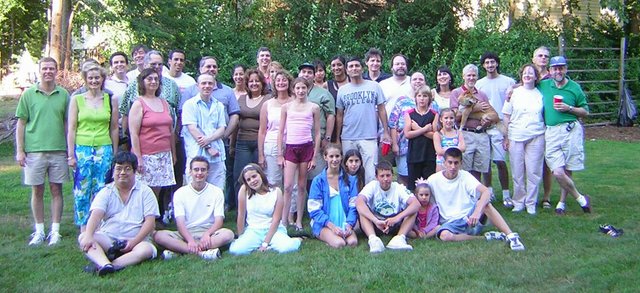 30 year CCCC reunion. more pics